A parent or spouse died but owned land or oil & gas mineral rights in Oklahoma:
Has one of these happened to you?
-An investor wants to buy minerals owned by a family member who has died.
-An oil company wants to lease minerals that were in your mother or father's name.
-Your relative was receiving royalty payments but won't pay you until there is a probate.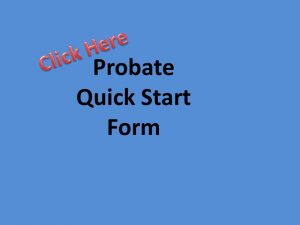 These are calls we receive each week. Fortunately, Oklahoma has a several stream-lined ways to handle these issues. Here are a couple of ways to address the situation:
Summary Administration:
A Summary Administration is slightly different from an Ancillary Probate. It is available in three situations
The person has been dead more than five years;
The total value of the estate (property owned by the decedent) is $200,000 or less; or
The person was not an Oklahoma resident & there was not a probate anywhere else.
Generally, the process involves filing a petition (if there was a Will enclosing a copy), sending notice to all heirs and creditors. An Administrator, usually a family, member is appointed. If there are no issues or claims the process can usually be concluded within 90 days. At that point the property will be transferred or distributed to the family members according to the Will or if there is no Will by Oklahoma's intestacy statutes.
Ancillary Probate:
This procedure is relatively quick. This process is used if the deceased person has had a probate in a state other than Oklahoma. For example, if there was a probate in California, that court would not have the power to transfer or re-title property in Oklahoma. The process involves filing copies of those pleading in Oklahoma, providing notice to all heirs, creditors and persons named in the will. If there is no objection the matter can often be concluded within two months.
What does an Ancillary Probate cost?
The answer varies but often a probate can be done on a flat fee basis.
Affidavit of Heirship
Occasionally, an Affidavit of Heirship will be sufficient for a company to sign a lease with you or to release payments. However, this will not vest you with ownership of the property for up to ten years. If there are multiple individuals entitled to inherit or creditors claims this may not be the best approach.
Probate services available in the following Oklahoma Counties:
Adair
Alfalfa
Atoka
Beaver
Beckham
Blaine
Bryan
Caddo
Canadian
Carter
Cherokee
Choctaw
Cimarron
Cleveland
Coal
Comanche
Cotton
Craig
Creek
Custer
Delaware
Dewey
Ellis
Garfield
Garvin
Grady
Grant
Greer
Harmon
Harper
Haskell
Hughes
Jackson
Jefferson
Johnston
Kay
Kingfisher
Kiowa
Latimer
Le Flore
Lincoln
Logan
Major
Marshall
Mayes
McClain
McCurtain
McIntosh
Murray
Muskogee
Noble
Nowata
Okfuskee
Oklahoma
Okmulgee
Osage
Ottawa
Pawnee
Payne
Pittsburg
Pontotoc
Pottawatomie
Pushmataha
Roger Mills
Rogers
Seminole
Sequoyah
Stephens
Texas
Tillman
Tulsa
Wagoner
Washington
Washita
Woods
Woodward
{if:
.
May 22, 2018
{COUNTY:ProbateJudge}
{if:Attn: {COUNTY:Bailiff}}
{COUNTY:JudgeAddr}
RE: Estate of {DECEDENT}, {CaseNumber}
Hearing Date: {HearingDate}, {HearingTime}
{if:Dear Judge {COUNTY:JudgeSalutation}}
Due to the upcoming hearing date, I thought that it would be convenient to provide you with the following information:

Type of Case: {if:This is a Summary Probate pursuant to 58 O.S. § 245. It only by statute, this required that the notice of the case be published twice. There was no requirement that the Final Account be published.} {if:This was an Ancillary Probate which only required one publication.}
The following are enclosed for your review:
• Publication
• AFFIDAVIT OF MAILING TO AND TO ALL HEIRS, LEGATEES AND DEVISEES {if:and OTHERS WITH AN INTEREST IN THE ESTATE} and {if:NON-}MAILING TO CREDITORS
• Proposed Order
Very truly yours,
Richard Winblad
Enclosures
}