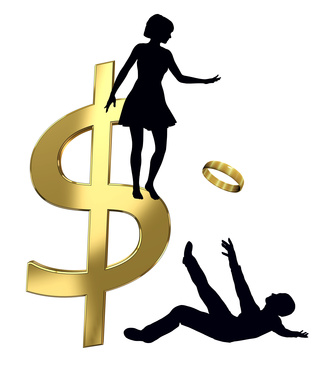 A Child's Husband or Wife if Often a Concern During Estate Planning
Let's face it, not everyone is crazy about their in-laws.  Whether it is greed, money problems, maturity, substance abuse or a possible divorce; these things create concerns when deciding how to pass along an inheritance.
How is an Inheritance Treated During Divorce?  In Oklahoma.
Theoretically, things or money your kid inherits is their separate property.  However, this can change if assets are co-mingled.  One example is an inheritance deposited into a joint account.  Transmutation is the act of changing separate property into joint property by gift, use or titling.  In a divorce setting these assets should not be included in a property division.  In reality, the ownership often becomes blurred when the other spouse gains title, has access or helps maintain the property.
Manipulative, Demanding, or Stealing In-Laws
Sometime the worry is not divorce but a continued marriage with a spouse who's need for resources never runs dry.  In these situations a Trustee can prevent wasting of an inheritance.
 Lifetime Trusts:
A Trust splits the legal and beneficial ownership from property.  The Trustee is the person or company that holds title.  However, the Trustee can only use the property for the beneficiary.
Example 1:  The Smith Trust purchases a home for the benefit of Sally.  Sally lives in the home but her name is not on the title to the property.  If Sally's is legally unable to sell, mortgage or give it to anybody else because only the Trustee has this power.  Sally's husband cannot force her to do anything with regard to that asset.  The Trustee can sell the property if Sally's needs change.
Example 2:  The Smiths want leave money to their son.  His demanding wife had credit, gambling, and/or alcohol problems.  The funds a placed in Trust so that the Trustee can manage the money.  The Trustee has sole discretion on how and when money is released for son's benefit.
In both examples the assets in the Trust are not available to the divorcing spouse.  This is because the assets are not "owned" but the child.