Advance Healthcare Directives the Living Will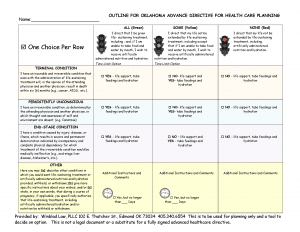 Advanced healthcare directives sometimes called "Living Wills" are legal documents which instruct health care providers of the level of care you desire if you are unable to speak for yourself.  Generally three conditions are anticipated 1) terminal condition, 2) persistently unconscious and 3) end-stage condition. If the patient is unable to communicate the Living Will provides health care providers with instructions.  Oklahoma's statutory form suggests three levels of treatment to chose from:
Do everything possible to extend life including artificially administering nutrition and hydration if I unable to take these by mouth.
Do not provide any life extending treatments but do artificially provide nutrition and hydration if I unable to take these by mouth.
Do not provide any life extending treatments and

do not

artificially provide nutrition of hydration is I am to by take these by mouth.
Patients are no limited to these options and can provide detailed instructions such as time limits.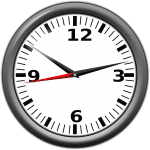 Time Limit on Decision:  What if I live too long based on my decision?
Many people choose the "Do Everything" or "Hydration & nutrition only" options.  The reasoning is rational, they don't just want to die without some efforts being made.  But what what if these measures only keep you alive without any chance of recovery?  It may be smart to include provisions to limit the duration of such treatment.  It might be good to include a statement that such measures should be withdrawn after _____ days.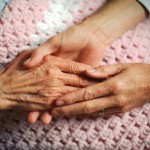 It is important that your doctors, hospitals and close family members have a copy this record.  Also it is good to have these records available online at a moment's notice.   An In Case of Emergency Card is a service Winblad Law offers See my DocuBank Page for more information.
Health Care Proxy
You may also chose a Health Care Proxy to make medical treatment decisions for you in the event that you are unable to make such decisions.  Your proxy can make decisions to the extent that they do not conflict with your Living Will.  Communication with persons selected as a health care proxy is important.
Organs and Tissue Donation
Oklahoma's form provides an area that allows for the donation of selected organs,  tissue or the entire body.  These may be donated for another recipient, research or teaching.
Medical Power of Attorney
A Medical Power of Attorney is similar to the Living Will in that it grants powers to a trusted individual.  However, the Living Will does not address conditions that are not considered to be end of life.  A common example is granting authority to make health and living decisions in case of dementia.   The Medical Power of Attorney permits the person selected to become an attorney-in-fact to make medical decisions.  The power can be granted immediately or it can "spring" into existence if two doctors determine that you are incapacitated.  You may, but are not required to, grant this person the power to issue a do-not-resuscitate order or DNR.
Do-not-resuscitate
A "Living Will" is not the same as a Do-Not Resuscitate form.  This form isn't for everyone. It is intended for use by a person who is near death. An advance directive doesn't go into effect until two physicians certify your condition as terminal. But the DNR consent form goes into effect immediately. Therefore, it should be signed only by someone who is terminal in his or her own mind and has made an informed decision that he or she does not want to be resuscitated in any circumstance.
Federal Patient Self-Determination Act requires that all Medicare-participating healthcare facilities inquire about and provide information to patients on Advance Directives; it also requires these facilities to provide community education on Advance Directives. See 42 C.F.R. § 489.102. All healthcare facilities are required to:
• Provide information about health care decision-making rights.
• Ask all patients if they have an advance directive.
• Educate their staff and community about advance directives.
• Not discriminate against patients based on an advance directive status.
More Facts.
The U.S. Agency for Healthcare Research and Quality (www.ahrq.gov), in a 2003 article, "Advance Care Planning: Preferences for Care at the End of Life," found the following:
• Less than 50 percent of the severely or terminally ill patients studied had an advance directive in their medical record.
• Only 12 percent of patients with an advance directive had received input from their physician in its development.
• Between 65 and 76 percent of physicians whose patients had an advance directive were not aware that it existed.
More Americans Discussing – and Planning – End-of-Life Treatment. The Pew Research Center, January 2006. Article
• 42% of Americans have had a friend or relative suffer from a terminal illness or coma in the last five years and for a majority of these people and 23% of the general public, the issue of withholding life sustaining treatment came up.
• An overwhelming majority of the public supports laws that give patients the right to decide whether they want to be kept alive through medical treatment.
• By more than eight-to-one (84%-10%), the public approves of laws that let terminally ill patients make decisions about whether to be kept alive through medical treatment.
• One of the most striking changes between 1990 and 2005 is the growth in the number of people who say they have a living will – up 17 points, from 12% in 1990 to 29% now.